LSMRCE 2021 Annual Conference
The Louis Stokes Midwest Regional Center of Excellence (LSMRCE) virtual conference, "Empowering Diverse STEM Innovators," will be held online October 22-24, 2021. The conference will offer a keynotes, breakout sessions and workshops for each audience (professionals, grad students, undergraduate students), competitive poster session, resource fair, and several networking opportunities.
Non-Competition Poster Option Available!
For students who did not have the opportunity to conduct research over the past year, we welcome posters about your LSAMP experience. What did hope to learn or gain from your experience? What did you learn? How do you think what you learned will help you? What are your next steps in your STEM journey? Be creative! These posters are eligible for the "People's Choice" award.

How to submit: Use the poster abstract submission button at the bottom of this page. Follow the abstract guidelines as best you can.

Deadline: Non-research poster abstracts are due Friday, October 8th. The final poster material uploaded deadline is Tuesday, October 19.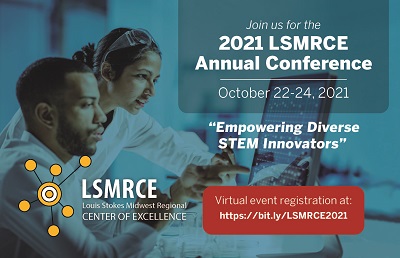 WHO SHOULD ATTEND?
Underrepresented minority STEM students (undergrad, grad, BD fellows, LSAMP alumni)
Higher education administrators
STEM faculty mentors
STEM program administrators
Faculty interested in education research
All NSF LSAMP, INCLUDES, and LSRCE community members
CALL FOR PROPOSALS
The conference will offer students, fellows, and professionals the opportunity to present their research or scholarly work. The types of calls include presenters and facilitators for the following:
REGISTRATION
$150 – Non students (Professionals, Faculty, Administrators, etc.)
$75 – Students (Undergrad, Grad, and Post-doc)
Registration closes on October 21, 2021.